Antonio Moretti Cuseri, founder and creator of the estate wines (beginning in the 90s), has brought his experience in the fashion industry to the wine industry, bringing his unique style, attention to detail, and creativity along with him. An avid traveler, gourmand, and wine aficionado, he was born and raised in the vineyards, breathing in the must of each harvest. He decided to abandon the real estate and fashion industries to devote his heart and soul to vineyard life. He sought out the most expert agronomic and enological consultants to help in his in-depth search for quality, recognizability, and identity. Realizing the enormous potential of the area and the quality of the grapes, he took control of the company from his father – who only cultivated grapes to sell to other producers – making and bottling his own wine, labeled Tenuta Sette Ponti. This started with the 1998 harvest of Crognolo, the first label produced by the winery. From then on, his passion grew stronger and deeper. He set out on a meticulous search for perfection and quality – in the name of elegance and recognizability. He was so driven that he began exploring other wine areas, expanding to other parts of Tuscany and Sicily. As a true entrepreneur and forerunner, he demonstrated a great ability to understand future trends, building other wineries in Maremma, Bolgheri, Noto, and Etna just before these wine regions took off. Respect for tradition, craftsmanship, selection, experimentation, identity, consistency, determination, and balance are just some of the keywords that sum up his production philosophy.
Director and manager of the Italian market
After having studied Business and Administration at Bocconi in Milan and having obtained an MSC in Finance in London, Amedeo worked in investment funds for a brief period and then devoted himself to the business side of fashion. In 2017, his father Antonio asked him to help manage the family businesses, but before accepting this key role, he capitalized on the opportunity to gain experience in other companies. He started working at JamesSuckling.com where he was the European Operations & Business Development Manager. With this position, he was s to meet the best producers in the world and taste their products. In 2019, he actively began working at the family businesses. He is now the winery director and Italian market manager. He is a dynamic person, fascinated by nature and adventure travel. His many passions include running, often in the forests surrounding Tenuta Sette Ponti, in Sicily among the tumuli, and at the Vendicari oasis, which faces Feudo Maccari. Wherever he is, the backdrop is always 360 degrees of pure natural beauty. Living outside Tuscany for a long time and traveling often allowed him to experience diverse cultures and learn about their needs. He always came home enriched with experiences that helped him take a modern approach to the company. Amedeo is the youngest of the Moretti Cuseri family and this is precisely what makes him the perfect bond between tradition and innovation.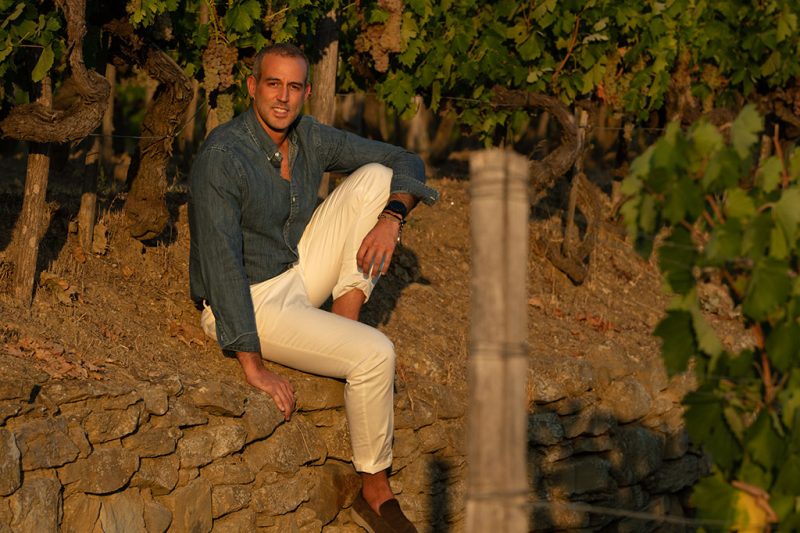 "It is a great pleasure to work with our father and continue to receive new stimuli every day. My family has transmitted a sincere love and dedication for nature and wine to us."
Export and Communications Director
Alberto Moretti Cuseri is linked to the wine industry through his family. Wine, the countryside, and Tuscan traditions are an integral part of his way of life and his daily life. He has always approached the wine business with interest, participating in cellar visits, tastings, and awards ceremonies, even when he was not directly involved. In 2018, he began increasingly working in the wineries, helping with the creative side, contributing his ideas and participating in projects, meetings, presentations, and traveling in Europe and around the world. His family transmitted all their values to him: how to care for the land, the love of vineyards and the simplest traditions. This is what Alberto Moretti Cuseri wants to communicate when he talks about his wineries: This incredible passion the Moretti Cuseri family has handed down from generation to generation and is more important than any business strategy they may have. Respect for nature is an integral part of Alberto Moretti Cuseri's focus, who underlines a commitment to environmental sustainability, proven by the fact that every inch of the vineyards is cultivated organically. His father Antonio's beliefs, advice, and experience are Alberto's benchmarks – he believes that to make high-quality wines you must do your best every day.